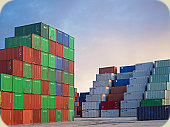 We present ourselves, M/S Classic Logistics Doha, one of the emergining shipping, airfreight clearing and forwarding agents in Doha, authorised by Doha Customers and Ports authorities.

Our years of CUSTOMER-ORIENTED Service allow us to provide a comprehensive range of services in every category of international and domestic transportation.

We specialize in offering cost-efficient operation in all aspects of the logistic industry.

Classic logistic is one of the complete solutions of emerging shipping airfreight clearing and forwarding agents in Doha, authorized by Doha customs and ports authorities. Classic logistics with combination of its experienced staff and excellent services makes it one the fastest growing freight forwarding company in Doha, Qatar. By our professionalism, technical expertise, efficiency, speed, security, urge to excel, thrive to continuous improvement and focus on long term customer relationship, we assure our customers personalized services in the highest class of quality and optimum satisfaction.